Onze boeken
Martha's Vineyard. Gardens and houses
Door Catherine Fallin e.a.
Categorie

Verenigde Staten & Canada

Boeknummer

#244689

Titel

Martha's Vineyard. Gardens and houses

Auteur

Fallin, Catherine & Elizabeth Talbot & Taylor Lewis

Boektype

Gebonden hardcover met stofomslag

Uitgeverij

New York etc., Simon and Schuster

Jaar van uitgave

1992

ISBN10

0671758586

ISBN13

9780671758585

Taal

Engels

Samenvatting


Martha's Vineyard, one of our country's most beautiful islands, is year-round residence or summer home to devotees from the world over. Only a few miles off the shore of Cape Cod, the Vineyard comprises six towns, each with a distinct personality, revealed in its homes and gardens. Reflecting the incredible diversity of the island's topography as well as the heritages bestowed upon it by its earliest settlers -- American Indians, English explorers and missionaries, Portuguese fishermen and whalers -- the island's treasures are revealed through the pictures of award-winning photographer Taylor Lewis. Together with Catherine Fallin and Elizabeth Talbot, he has captured the island's richness of architectural styles, interior design, and gardens. In evocative words and stunning color photogr... (

Lees verder

)

aphs, we are taken on a tour inside the most special Vineyard houses; down winding sandy lanes and behind garden gates to the island's most delectable gardens. Portrayed in elegant detail are some of the oldest houses on the Vineyard, dating from 1682 in Edgartown and the early 1700s in Chilmark, Vineyard Haven, and Indian Hill; whimsical Victorian campground cottages and summer homes in Oak Bluffs; fishing shacks and restored farmhouses in Menemsha; contemporary marvels in Chilmark and Gay Head. We visit much-loved little cottages and grand estates, studios and homes of artists -- all combine to make up the character that is Martha's Vineyard today. Vineyard gardens are some of the most outstanding in the country. They range from the large and formal with patterned walkways and fountains to the intimate and serene. Depicted in these pages are vast stretches of landscape dotted with ponds and carefully preserved ancient wild cherries and oaks; native shrubs, ground covers, and ornamental grasses; and even an island arboretum, whose owner has produced new cultivars of rhododendrons and azaleas that supply gardeners across the country. These gardens are shown along with backyard gardens, delightful perennial borders, and wild seaside moorlands.

Pagina's

277

Conditie

Goed

Prijs

€ 12,50

Toevoegen aan winkelwagen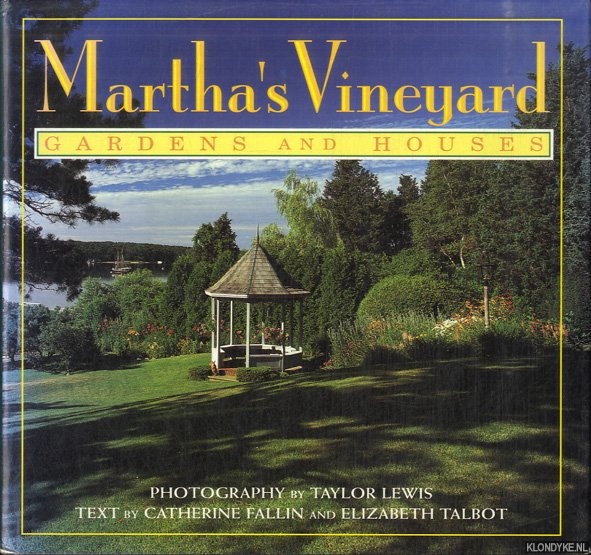 Onze gebruikte boeken verkeren in goede tweedehands staat, tenzij hierboven anders beschreven. Kleine onvolkomenheden zijn niet altijd vermeld.