Onze boeken
Expressionist Utopias. Paradise, Metropolis, Architectural Fantasy
Door Timothy O. Benson e.a.
Categorie

Algemeen Architectuur & Bouwkunde

Boeknummer

#242730

Titel

Expressionist Utopias. Paradise, Metropolis, Architectural Fantasy

Auteur

Benson, Timothy O. & Edward Dimendberg

Boektype

Gebonden hardcover

Uitgeverij

Berkeley/Los Angeles/London, University of California Press

Jaar van uitgave

1993

ISBN10

0520230035

ISBN13

9780520230033

Taal

Engels

Samenvatting

The notion of utopia exists in every culture, capturing shared dreams and common goals. This bookprepared to accompany the exhibitionExpressionist Utopias mounted at the Los Angeles County Museum in 1993explores how the optimistic themes of utopia and fantasy sustained faith among artists and architects in the power of art to shape a better world during the tumultuous World War I era in Germany. The exhibition's curator, Timothy O. Benson along with David Frisby, Reinhold Heller, Anton Kaes, Wolf Prix, and Iain Boyd White present the diverse manifestations of the utopia metaphor in its progression throughout Expressionism from Arcadian to manmade utopias.

This work includes a new essay and an interview by Edward Dimenberg with Wolf Prix on the spectacular installation created for the ex... (

Lees verder

)

hibition by the Viennese architectural firm Coop Himmelblau.

Pagina's

339

Conditie

Goed — Later binding: professionally bound in cloth with original cover and spine.

Prijs

€ 15,00

Toevoegen aan winkelwagen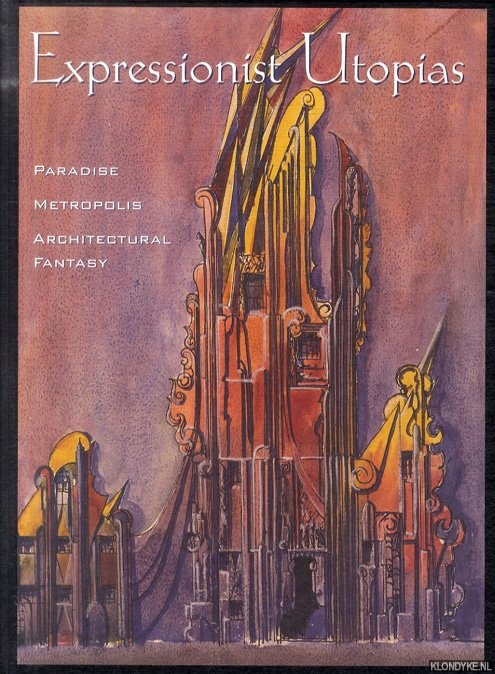 Onze gebruikte boeken verkeren in goede tweedehands staat, tenzij hierboven anders beschreven. Kleine onvolkomenheden zijn niet altijd vermeld.