Onze boeken
The Medieval Manuscripts at Maynooth
Door P.J. Lucas e.a.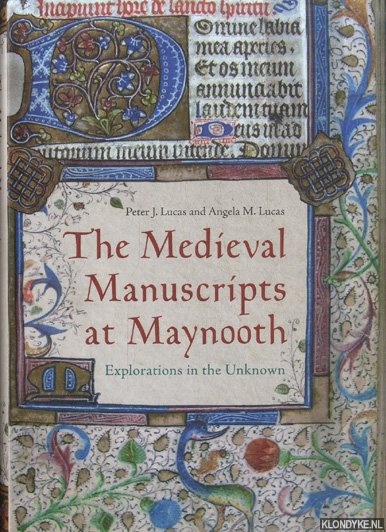 | | |
| --- | --- |
| Categorie | Boekdrukkunst & Boeken |
| Boeknummer | #233186 |
| Titel | The Medieval Manuscripts at Maynooth. Explorations in the Unknown |
| Auteur | Lucas, P.J. & Lucas, A.M. |
| Boektype | Gebonden hardcover met stofomslag |
| Uitgeverij | Dublin, Four Courts Press |
| Jaar van uitgave | 2014 |
| ISBN10 | 1846825342 |
| ISBN13 | 9781846825347 |
| Taal | Engels |
| Beschrijving | XXVII,(1),276p., num. full-p. col. ills., orig. giltlettered cl. w. dustwr., sm. 4to. |
| Samenvatting | This book provides an in-depth guide to the Maynooth medieval manuscripts (some 16 of them plus fragments) with illustrations. The descriptions of the manuscripts include full palaeographical / codicological details, information on the contents of the manuscripts, and their history, as far as it is known. Some of the manuscripts are of particular importance, either for their texts or for their illustrations, which are of good quality, or, in one case, because of the particular circumstances in which it was made. This material has lain mostly unknown for up to 200 years, and, in most cases, the works contained in the manuscripts have not hitherto been identified. For the first time, consideration is also given to the collection as a whole, and how its make-up may reflect the history and character of the institution where it was built up. In the absence of any one major donor whose interests might have dominated, the collection grew over decades mainly in the 19th century. It therefore reflects the tastes of a succession of senior members of the college plus a few donors. [Subject: History, Medieval Studies, Irish Studies] |
| Pagina's | - |
| Conditie | Goed |
| Prijs | € 50,00 |

Toevoegen aan winkelwagen
Zie ook
Onze gebruikte boeken verkeren in goede tweedehands staat, tenzij hierboven anders beschreven. Kleine onvolkomenheden zijn niet altijd vermeld.