Onze boeken
PB Success. The CIA's Covert Operation to Overthrow Guatemalan President Jacobo Arbenz June-July 1954
Door Mario Overall e.a.
Categorie

Geschiedenis Zuid- en Latijns Amerika

Boeknummer

#229646

Titel

PB Success. The CIA's Covert Operation to Overthrow Guatemalan President Jacobo Arbenz June-July 1954

Auteur

Overall, Mario & Dan Hagedorn

Boektype

Paperback

Uitgeverij

Warwick, Helion & Company

Jaar van uitgave

2016

ISBN10

1910777897

ISBN13

9781910777893

Taal

Engels

Samenvatting

In January 1954, at the peak of the so-called Cold War , the U. S. Government set to overthrow the Guatemalan President Jacobo Arbenz, who had been deemed a Communist and a dangerous influence in Central America. Thus, the Central Intelligence Agency was ordered to launch a clandestine paramilitary operation, code-named Project PB Success , for setting a precedent in a region that was considered the U. S. backyard. Six months later, Arbenz was out and a new ruling junta , more amiable to U. S. interests, had replaced him. In the process, the Agency not only had established the principles and tactics for all its future covert operations, but also had shaped the U. S. foreign policy for years to come. Based primarily on CIA declassified documents and Guatemalan military sources, this book ex

... (

Lees verder

)

plores the volatile political and military scenario in which Project PBSuccess unfolded and, for the first time, delves into a rather poorly documented aspect of the operation: The use of air power by both, the CIA and the Guatemalan Air Force. Backed by more than 20 years of careful research, the book covers the desperate attempts of the Guatemalan air arm for establishing a credible defense plan with very limited resources, and the difficulties that the Agency had to overcome in order to organize a rebel air force while navigating a sea of red tape and bureaucracy. It also examines all air operations launched prior and during the campaign, and brings to life the aircraft and the aviators that flew in those missions, sometimes with tragic results. Besides a selection of photos never published before, the book also features a section on color profiles and markings, and a set of tables detailing the identities of the aircraft involved and the missions flown, on a day-by-day basis.

Pagina's

111

Conditie

Nieuw

Prijs

€ 12,50

Toevoegen aan winkelwagen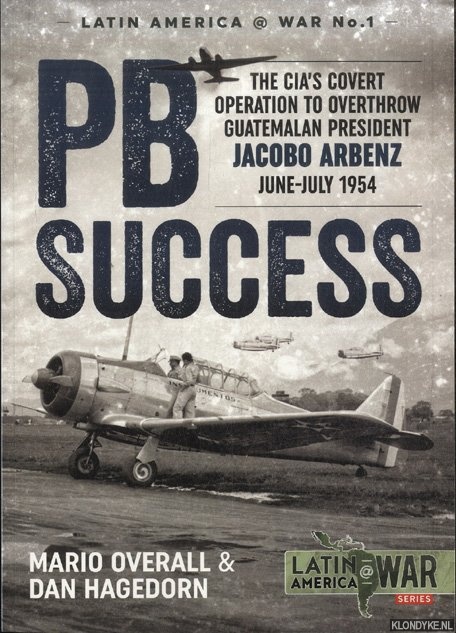 Onze gebruikte boeken verkeren in goede tweedehands staat, tenzij hierboven anders beschreven. Kleine onvolkomenheden zijn niet altijd vermeld.