Aanbod
The Biology of Caves and Other Subterranean Habitats
Door David C. Culver e.a.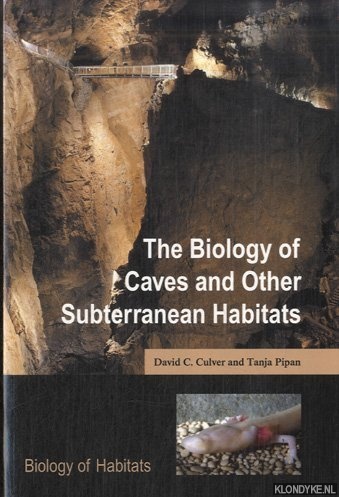 | | |
| --- | --- |
| Rubriek | Algemeen Natuur |
| Boeknummer | #226900 |
| Titel | The Biology of Caves and Other Subterranean Habitats |
| Auteur | Culver, David C. & Tanja Pipan |
| Boektype | Paperback |
| Uitgeverij | Oxford University Press |
| Jaar van uitgave | 2010 |
| ISBN10 | 0199219931 |
| ISBN13 | 9780199219933 |
| Taal | Engels |
| Samenvatting | Caves and other subterranean habitats with their often strange (even bizarre) inhabitants have long been objects of fascination, curiosity, and debate. The question of how such organisms have evolved, and the relative roles of natural selection and genetic drift, has engaged subterranean biologists for decades. Indeed, these studies continue to inform the more general question of adaptation and evolution. However, interest in subterranean biology is not limited to questions of evolutionary biology. Both the distribution and the apparent ancient age of many subterranean species continue to be of significant interest to biogeographers. Subterranean ecosystems generally exhibit little or no primary productivity and, as extreme ecosystems, provide general insights into ecosystem function. Furthermore, the simplicity of subterranean communities relative to most surface-dwelling communities makes them useful model systems for the study of species interactions such as competition and predation, as well as more general principles of ecosystem function. The rarity of many cave species makes them of special interest in conservation biology. The Biology of Caves and other Subterranean Habitats offers a concise but comprehensive introduction to cave ecology. Whilst there is an emphasis on the organisms that dominate this unique environment, conservation and management aspects are also considered. The book includes a global range of examples and case studies from both caves and non-cave subterranean habitats; it also provides a clear explanation of specialized terms used by speleologists. This accessible text will appeal to researchers new to the field and to the many professional ecologists and conservation practitioners requiring a concise but authoritative overview. Its engaging style will also make it suitable for senior undergraduate and graduate students taking courses in cave and subterranean biology. |
| Pagina's | 254 |
| Conditie | Als nieuw |
| Prijs | € 25,00 |

Toevoegen aan winkelwagen
Zie ook
Onze gebruikte boeken verkeren in goede tweedehands staat, tenzij hierboven anders beschreven. Kleine onvolkomenheden zijn niet altijd vermeld.