Onze boeken
Lost Lines of Wales. Rhyl To Corwen
Door Paul Lawton e.a.
Categorie

Treinen, Trams, Autobussen & Openbaar Vervoer

Boeknummer

#216747

Titel

Lost Lines of Wales. Rhyl To Corwen

Auteur

Lawton, Paul & David Southern

Boektype

Gebonden hardcover

Uitgeverij

Coventry, Bristol

Jaar van uitgave

2018

ISBN10

1912213109

ISBN13

9781912213108

Taal

Engels

Samenvatting


Authors Paul Lawton and D. W. Southern continue this series of pocket books exploring Wales' railway heritage, each revealing a "lost line' of Wales. Though some of these lines are not lost in the sense of complete abandonment, this series re-captures the importance and the grandeur of steam. The closure of many of these lines has had significant and lasting impact, and the recovery of some routes is of public relevance and a source of debate today. The history and social background of the railway and its passengers is explored station by station. Photo-illustrated throughout, its story is brought vividly to life through extensive research and archive photography, much of which has never previously been published. In this addition, take a nostalgic steam-powered journey back in time... (

Lees verder

)

on the long-closed service between Corwen and Rhyl. A historic line dating back to 1856, passenger services were depleted and finally withdrawn during the 1950s. This compact guide is a rich and highly informative account of an essential aspect of British heritage.

Pagina's

64

Conditie

Nieuw

Prijs

€ 6,00

Toevoegen aan winkelwagen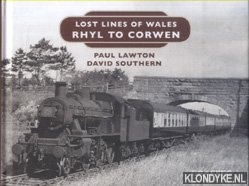 Onze gebruikte boeken verkeren in goede tweedehands staat, tenzij hierboven anders beschreven. Kleine onvolkomenheden zijn niet altijd vermeld.