Onze boeken
Surrender at New Orleans. General Sir Harry Smith in the Peninsula and America
Door David Rooney e.a.
Categorie

Geschiedenis Europa

Boeknummer

#213743

Titel

Surrender at New Orleans. General Sir Harry Smith in the Peninsula and America

Auteur

Rooney, David & Michael Scott

Boektype

Paperback

Uitgeverij

Pen & Sword Books Ltd

Jaar van uitgave

2014

ISBN10

1783831200

ISBN13

9781783831203

Taal

Engels

Samenvatting


General Sir Harry Smith won the lifelong respect and affection of the Duke of Wellington. Famously married to the Spanish beauty, Juana, after the siege of Badajoz in 1812, they served together to the end of the Peninsula war. With the French defeated, Harry left with the British expedition to America in 1814, and witnessed the burning of the White House. The fiery Admiral Cochrane raged bitterly I am sorry you left a house standing in Washington - depend on it, it is a mistaken mercy . Later, Harry joined Wellington's brother-in-law, Ned Pakenham, in the invasion of Louisiana. On 8 January 1815, they attacked General Jackson's well prepared positions protecting New Orleans. A resounding defeat for the British, in which Pakenham was killed, it fell to Harry to take part in the surrender ... (

Lees verder

)

to General Jackson, and then to convey the dismal news to London. Approaching England, he heard the dramatic news of Napoleon's escape, which led to Harry and Juana's breath-taking experience at Waterloo. The book covers the extraordinary lives of Harry and Juana, including their achievements and legacy in South Africa, and Harry's model victory in India in 1846, which made him a hero to Queen Victoria and Prince Albert. The outline of their lives may be known to many, but the details in this carefully researched book will come as a revelation.

Pagina's

196

Conditie

Nieuw

Prijs

€ 8,00

Toevoegen aan winkelwagen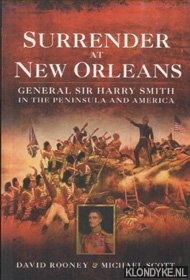 Onze gebruikte boeken verkeren in goede tweedehands staat, tenzij hierboven anders beschreven. Kleine onvolkomenheden zijn niet altijd vermeld.