Onze boeken
Berlin Metropolis. Jews and the New Culture, 1890-1918
Door Emily D. Bilski e.a.
Categorie

Geschiedenis Europa

Boeknummer

#207798

Titel

Berlin Metropolis. Jews and the New Culture, 1890-1918

Auteur

Bilski, Emily D. - e.a.

Boektype

Paperback

Uitgeverij

University of California press

Jaar van uitgave

2000

ISBN10

0520222423

ISBN13

9780520222427

Taal

Engels

Samenvatting


Between 1890 and 1918 the city of Berlin evolved into a commercial and industrial hub that also became an international center for radical new ideas in the visual, performing, and literary arts. Jews were key leaders in developing this unique cosmopolitan culture. Berlin Metropolis: Jews and the New Culture, 1890-1918 vividly documents the many ways that Jewish artists and entrepreneurs participated in this burst of artistic creativity and promoted the emergence of modernism on the international scene. The book and exhibition at The Jewish Museum highlight leading cultural figures such as Max Liebermann, a founder of the Berlin Secession, and Herwarth Walden, who founded Der Sturm; artists such as Ludwig Meidner and Jakob Steinhardt; pioneers of cabaret, theater, and film, including Max ... (

Lees verder

)

Reinhardt and Ernst Lubitsch; art dealers, publishers, and writers; and, leading intellectual and political figures such as Martin Buber and Georg Simmel. These and other fascinating individuals are represented by more than 200 diverse objects: paintings, sculpture, drawings, prints, books, letters, posters, graphic arts, theater memorabilia, and film. The book includes eight essays by scholars of German and Jewish culture and art history that provide a truly interdisciplinary interpretation of the Berlin renaissance. The period represented in Berlin Metropolis was a time when Jews were traditionally restricted from participating in major areas of German public life such as the army, government, and the university. But by turning to the 'alternative public spheres' characteristic of urban society - galleries, cafes, journals, theaters, cabarets - they emerged as innovative cultural leaders whose intellectual and artistic impact is still felt today. The exhibition, Berlin Metropolis: Jews and the New Culture, 1890-1918, will be at The Jewish Museum, New York, from November 14, 1999, to March 5, 2000; and the Norton Museum of Art, West Palm Beach, Florida, from April 1 to June 11, 2000.

Pagina's

265

Conditie

Goed — Naam en datum op titelpagina

Prijs

€ 15,00

Toevoegen aan winkelwagen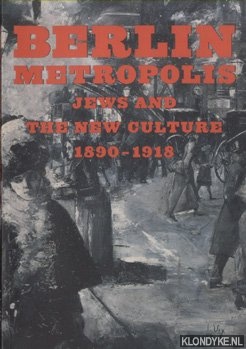 Onze gebruikte boeken verkeren in goede tweedehands staat, tenzij hierboven anders beschreven. Kleine onvolkomenheden zijn niet altijd vermeld.