Onze boeken
The American Enemy. The History of French Anti-Americanism
Door Philippe Roger e.a.
Categorie

Geschiedenis Europa

Boeknummer

#252937

Titel

The American Enemy. The History of French Anti-Americanism

Auteur

Roger, Philippe & Sharon Bowman

Boektype

Gebonden hardcover met stofomslag

Uitgeverij

The University Of Chicago Press

Jaar van uitgave

2002

ISBN10

0226723682

ISBN13

9780226723686

Taal

Engels

Samenvatting


Georges-Louis Buffon, an eighteenth-century French scientist, was the first to promote the widespread idea that nature in the New World was deficient; in America, which he had never visited, dogs don't bark, birds don't sing, and - by extension - humans are weaker, less intelligent, and less potent. Thomas Jefferson, infuriated by these claims, brought a seven-foot-tall carcass of a moose from America to the entry hall of his Parisian hotel, but the five-foot-tall Buffon remained unimpressed and refused to change his views on America's inferiority. Buffon, as Philippe Roger demonstrates here, was just one of the first in a long line of Frenchmen who have built a history of anti-Americanism in that country, a progressive history that is alternately ludicrous and trenchant. The American En... (

Lees verder

)

emy is Roger's bestselling and widely acclaimed history of French anti-Americanism, presented here in English translation for the first time. With elegance and good humor, Roger goes back 200 years to unearth the deep roots of this anti-Americanism and trace its changing nature, from the belittling, as Buffon did, of the savage American to France's resigned dependency on America for goods and commerce and finally to the fear of America's global domination in light of France's thwarted imperial ambitions. Roger sees French anti-Americanism as barely acquainted with actual fact; rather, anti-Americanism is a cultural pillar for the French, America an idea that the country and its culture have long defined themselves against. Sharon Bowman's fine translation of this magisterial work brings French anti-Americanism into the broad light of day, offering fascinating reading for Americans who care about our image abroad and how it came about.

Pagina's

518

Conditie

Goed

Prijs

€ 12,50

Toevoegen aan winkelwagen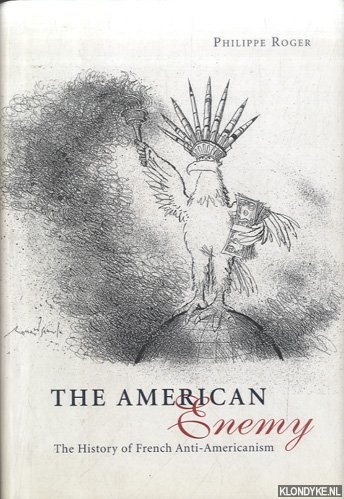 Onze gebruikte boeken verkeren in goede tweedehands staat, tenzij hierboven anders beschreven. Kleine onvolkomenheden zijn niet altijd vermeld.