Onze boeken
British Battles of the Crimean Wars 1854-1856. Despatches from the Front
Door John Grehan e.a.
Categorie

Geschiedenis Europa

Boeknummer

#211848

Titel

British Battles of the Crimean Wars 1854-1856. Despatches from the Front

Auteur

Grehan, John & Martin Mace

Boektype

Gebonden hardcover met stofomslag

Uitgeverij

Pen & Sword Books Ltd., London

Jaar van uitgave

2014

ISBN10

1781593302

ISBN13

9781781593301

Taal

Engels

Samenvatting


The Crimean War was the most destructive armed conflict of the Victorian era. It is remembered for the unreasoning courage of the Charge of the Light Brigade, for the precise volleys of the Thin Red Line and the impossible assaults upon Sevastopol's Redan. It also demonstrated the inefficiency and ineffectiveness of the British military system based on privilege and purchase.?? Poor organisation at staff level and weak leadership from the Commander-in-Chief with a lack of appreciation of the conditions the troops would experience in the Crimea resulted in the needless death of thousands of soldiers. The Royal Navy, by comparison, was highly effective and successfully undertook its operations in the Baltic, the Black Sea and the Sea of Azov.?? The relative performance of the two branches ... (

Lees verder

)

of Britain's armed forces is reflected in the despatches sent back to the UK by the? respective commanders. The comparative wealth of detail provided by Admirals Napier, Dundas and Lyons contrast sharply with the limited, though frequent, communications from Generals Raglan, Codrington and Simpson.?? The despatches of all these commanding officers are presented in this compilation just as they were when first published in the 1850s. They tell of the great battles of the Alma, Balaklava and Inkerman, of the continuing struggle against Sevastopol and the naval operations which cut the Russian communications and ensured an eventual, if costly, victory. They can be read, just as they were when revealed to the general public more than 150 years ago.

Pagina's

304

Conditie

Nieuw

Prijs

€ 12,50

Toevoegen aan winkelwagen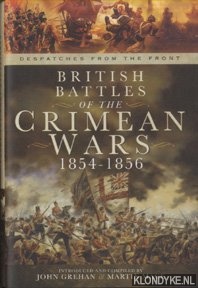 Onze gebruikte boeken verkeren in goede tweedehands staat, tenzij hierboven anders beschreven. Kleine onvolkomenheden zijn niet altijd vermeld.