Onze boeken
Supertoys Supertoys
Door Merle Flügge e.a.
Categorie

Speciale uitgaven

Boeknummer

#272078

Titel

Supertoys Supertoys

Auteur

Flügge, Merle & Max Bruinsma

Boektype

Paperback

Uitgeverij

Hybrid Publishing

Jaar van uitgave

2018

ISBN10

9492479079

ISBN13

9789492479075

Taal

Engels

Beschrijving

This is a book that is not a book. It is just an object trying to escape a world full of objects, maybe becoming alive in a world full of life. It is a learning book. Not an educational one, not for you to learn anything from it, but to learn itself. Nobody knows why it wants to learn, but why should we? It didn't ask us to be published either. We put my name on it and you can squeeze it, not functional at all. Actually, it wanted to be a website, it didn't succeed …yet.

Samenvatting

Merle Flügge's art is made to oppose our hyper-consumerist times and to reach for a more reciprocal relationship between objects and humans. The Supertoys Supertoys project speculates on a future where artificial intelligence designs domestic objects that may be digital as well as physical. Merle calls herself "an animist". She pursued her master's in Interior Architecture: Research + Design at the Piet Zwart Institute, Rotterdam, and received the Willem De Kooning research award in 2017 for her Supertoys project.

Her publication is a nice example of animism: it's a sponge shaped like a book but it is not a book, or actually a book that wants to be a website, but did not succeed. "Somehow it's caught in the middle. It's still learning. Squeeze the book and see how... (

Lees verder

) the website reacts." You can find the web-based publication here.

The physical object is packaged in a nice pink gripbag, so it can keep it's fresh perfume. You're almost tempted to squeeze it a bit and start cleaning something!

Pagina's

-

Conditie

Goed — Still sealed.

Prijs

€ 20,00

Toevoegen aan winkelwagen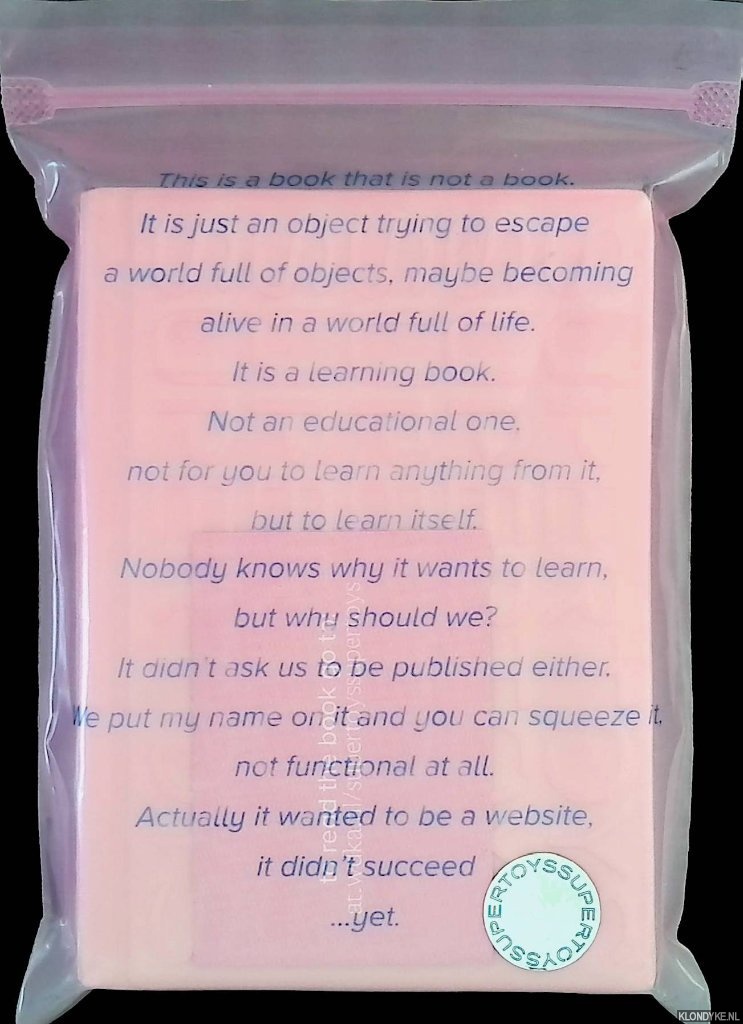 Onze gebruikte boeken verkeren in goede tweedehands staat, tenzij hierboven anders beschreven. Kleine onvolkomenheden zijn niet altijd vermeld.