Onze boeken
Frantic 7. The American Effort to Aid the Warsaw Uprising and the Origins of the Cold War, 1944
Door John Radzilowski e.a.
Categorie

WO II

Boeknummer

#238473

Titel

Frantic 7. The American Effort to Aid the Warsaw Uprising and the Origins of the Cold War, 1944

Auteur

Radzilowski, John & Jerzy Szczesniak

Boektype

Gebonden hardcover met stofomslag

Uitgeverij

Philadelphia/Oxford, Casemate

Jaar van uitgave

2017

ISBN10

1612005608

ISBN13

9781612005607

Taal

Engels

Samenvatting


The Frantic operations were conceived in late 1943 as Soviet advances made Soviet airfields accessible to Allied long-range aircraft. American aircraft could hit targets in central Europe, refuel and rearm at Soviet bases, then fly back to bomb additional targets. In addition to hitting Nazi war industries, the political objectives of Frantic were to build closer cooperation with the Red Army as the end of the war drew nearer. For the first two weeks of the Warsaw Uprising, Soviet forces stood outside the city, and Stalin refused to let the RAF land at Soviet bases after dropping supplies to the Polish freedom fighters. But eventually the United States persuaded him to let them use Frantic to supply the Poles. On 18 September 1944, American B-17 Flying Fortresses dropped arms, ammunition... (

Lees verder

)

, medical supplies, and food over the city of Warsaw. The assistance came too late for the Polish freedom fighters. For many, Frantic 7 remains a mere gesture to placate Western public opinion, but the events of that day, and the courage of 1,220 airmen who risked their lives to bring them aid, are still remembered by the Poles of Warsaw. This book gives a full narrative of Frantic 7, using the first-hand accounts of those on the ground in Warsaw to tell the stories of the young aircrew. It puts Frantic 7 in context, and explains how the diplomatic wrangling set the stage for the breakdown in relations between the Soviet Union and the United States.

Pagina's

172

Conditie

Nieuw

Prijs

€ 15,00

Toevoegen aan winkelwagen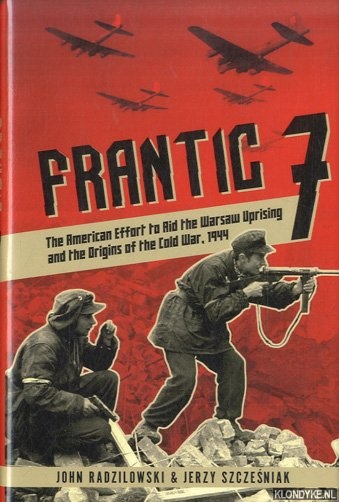 Onze gebruikte boeken verkeren in goede tweedehands staat, tenzij hierboven anders beschreven. Kleine onvolkomenheden zijn niet altijd vermeld.