Onze boeken
Topographical Bibliography of Ancient Egyptian Hieroglyphic Texts, Reliefs and Paintings. Volume VI: Upper Egypt: Chief Temples (excluding Thebes): Abydos, Dendera, Esna, Edfu, Kom Ombo, and Philae
Door Bertha Porter e.a.
Categorie

Het oude Egypte

Boeknummer

#236174

Titel

Topographical Bibliography of Ancient Egyptian Hieroglyphic Texts, Reliefs and Paintings. Volume VI: Upper Egypt: Chief Temples (excluding Thebes): Abydos, Dendera, Esna, Edfu, Kom Ombo, and Philae

Auteur

Porter, Bertha & Rosalind L.B. Moss

Boektype

Gebonden hardcover met stofomslag

Uitgeverij

Griffith Institute / Ashmolean Museum Oxford

Jaar van uitgave

1991

ISBN10

0900416300

ISBN13

9780900416309

Taal

Engels

Samenvatting

The volumes of this bibliography show the Egyptologist where to find published and unpublished records of ancient Egyptian monuments which remain in situ, those which have been removed but can be traced to a definite site, as well as those in museums and private collections where the provenance has been lost. Monuments are arranged geographically and there are indices, including kings, deities and private individuals, for each volume. The first two volumes contain the account of the temples and tombs at Thebes. The third volume deals with the monuments of Memphis, with its vast necropolis of pyramids and tombs; the fourth with Lower and Middle Egypt. The fifth and sixth volumes cover the sites and temples of Upper Egypt, and the seventh Nubia, the deserts and finds of Egyptian objects outs

... (

Lees verder

)

ide Egypt. Monuments of provenance not known are being presented systematically in the eighth volume, parts 1 and 2 of which list statues, and parts 3 and 4 stelae.

Pagina's

264

Conditie

Goed

Prijs

€ 30,00

Toevoegen aan winkelwagen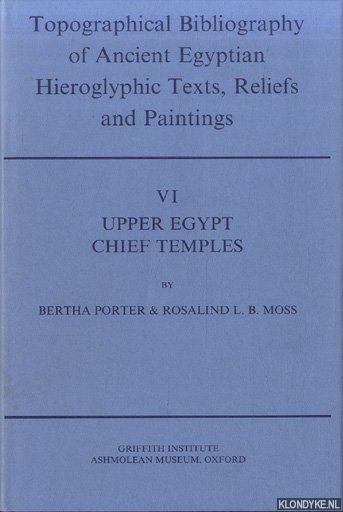 Onze gebruikte boeken verkeren in goede tweedehands staat, tenzij hierboven anders beschreven. Kleine onvolkomenheden zijn niet altijd vermeld.