Aanbod
Medicinal Plants of East and Southeast Asia
Door L.M. Perry e.a.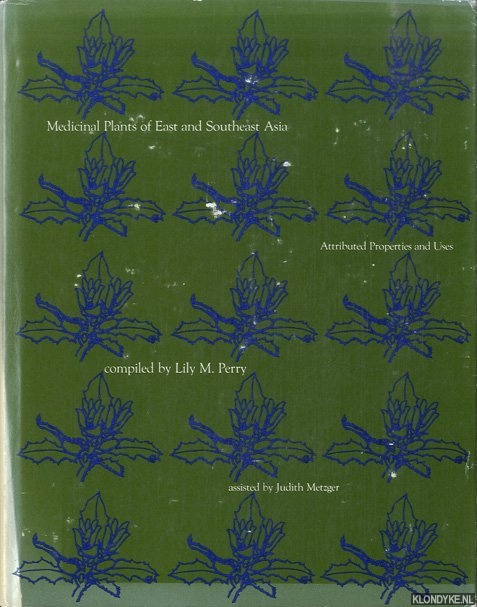 | | |
| --- | --- |
| Rubriek | Bloemen & Planten |
| Boeknummer | #224613 |
| Titel | Medicinal Plants of East and Southeast Asia. Attributed Properties and Uses |
| Auteur | Perry, L.M. & Metzger, J. |
| Boektype | Gebonden hardcover met stofomslag |
| Uitgeverij | Cambridge/ London, MIT Press |
| Jaar van uitgave | 1980 |
| ISBN10 | 0262160765 |
| ISBN13 | 9780262160766 |
| Taal | Engels |
| Beschrijving | (12),620p., orig. cl. w. (trifle rubbed/ frayed) dustwr., large 4to. |
| Samenvatting | In Indonesia, the roots of Acanthus ilicifolius are chewed and laid on wounds caused by poisoned arrows; in Burma, the shoots are used to treat snakebite and the leaves to ease the pains of rheumatism; in China, the roots are a remedy for chronic fever; and in the Philippines, a decoction is considered effective against asthma. One plant used by different peoples in different ways, but all seemingly effective. In Medicinal Plants of East and Southeast Asia, the medicinal properties of Acanthus ilicifolius are described along with those of hundreds of other plants. Students of pharmacology, economic botany, anthropology and many other fields will find this a useful reference volume. Libraries of colleges and universities, arboreta and herbaria will find this to be a source of references linking botany, chemistry, medicine, and folklore. The book is a browser's delight for the lay reader with an interest in how different people use plant materials. The entries are listed in alphabetical order, encyclopedia-fashion for easy reference, and are written in simple language suitable for the general reader and scholar alike. Each entry gives the scientific name of the plant, its distribution, and a description of its uses in different locales supported by an extensive bibliography and references to sources in herbaria. The area covered includes Papua New Guinea and Indonesia, north to the Philippines, China and Korea. Five indexes are supplied including: plants listed according to the attributed therapeutic properties; various disorders; and scientific names. There are forty-eight pages of references. |
| Pagina's | 620 |
| Conditie | Goed — Spine dust jacket very discolored |
| Prijs | € 80,00 |

Toevoegen aan winkelwagen
Zie ook
Onze gebruikte boeken verkeren in goede tweedehands staat, tenzij hierboven anders beschreven. Kleine onvolkomenheden zijn niet altijd vermeld.