Onze boeken
Ronald be Bloeme. Speisereste. Kategorie: 3
Door Bettina Knop e.a.
Categorie

Schilderkunst

Boeknummer

#224208

Titel

Ronald be Bloeme. Speisereste. Kategorie: 3

Auteur

Knop, Bettina & Ronald de Bloeme & Hamish Morrison

Boektype

Gebonden hardcover

Uitgeverij

Hamish Morrison Galerie, Berlin

Jaar van uitgave

2011

ISBN10

3942405490

ISBN13

9783942405492

Taal

Duits

Samenvatting


They are Very Large, Very Colorful, and Very Busy... the paintings of Ronald de Bloeme (b. Leeuwarden, Netherlands, 1971; lives and works in Berlin). His method is to reduce and distort trademarks and visual codes he finds on packaging materials, in advertisements, and in everyday life more generally. Working in enamel on canvas, he composes his samples into enormous pictures, reflecting on the strategies of contemporarycommunication. Ronald de Bloeme? s works address the questions painting continues to raise, questions that do not leave the role of the artist unaffected. Ronald de Bloeme studied painting at the Willem de Kooning Academie, Rotterdam, from 1992 to 1996. In 2000, he received a fellowship from the International Studio Program at Künstlerhaus Bethanien; in 2007, he was ... (

Lees verder

)

awarded the Vattenfall Art Award Energy. Includes essays by the art historian Fiona Geuß and Oliver Zybok, professor of art theory of the twentieth and twentyfirst centuries, Braunschweig University of Art.

Pagina's

144

Conditie

Als nieuw

Prijs

€ 17,50

Toevoegen aan winkelwagen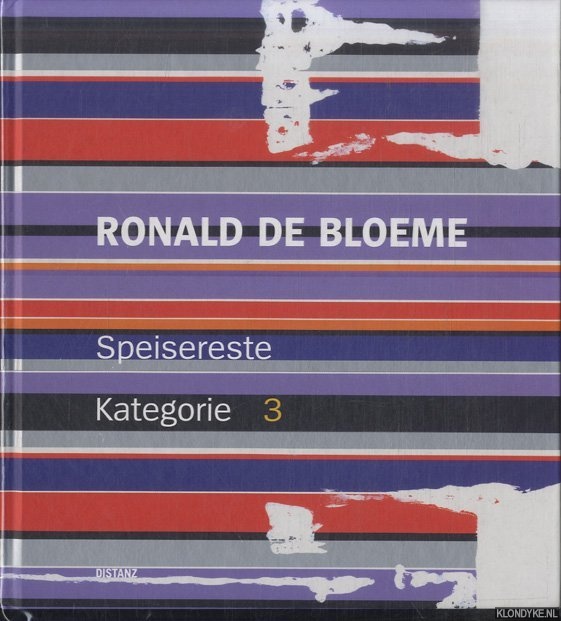 Onze gebruikte boeken verkeren in goede tweedehands staat, tenzij hierboven anders beschreven. Kleine onvolkomenheden zijn niet altijd vermeld.