Onze boeken
Barbarossa Through Soviet Eyes. The First Twenty-Four Hours
Door Artem Drabkin e.a.
Categorie

WO II

Boeknummer

#218840

Titel

Barbarossa Through Soviet Eyes. The First Twenty-Four Hours

Auteur

Drabkin, Artem & Alexei Isaev & Christopher Summerville

Boektype

Gebonden hardcover met stofomslag

Uitgeverij

Pen & Sword, Barnsley

Jaar van uitgave

2012

ISBN10

184415923X

ISBN13

9781844159239

Taal

Engels

Samenvatting


22 June 1941 changed the direction of the Second World War. It also changed the direction of human history. Unleashing a massive, three-pronged assault into Soviet territory, the German army unwittingly created its own nemesis, forging the modern Russian state in the process. Thus, for most Russians, 22 June 1941 was a critical point in their nation's history. After the first day of 'Barbarossa' nothing would be the same again - for anyone. Now, for the first time in English, Russians speak of their experiences on that fatal Sunday. Apparently caught off guard by Hitler's initiative, the Soviets struggled to make sense of a disaster that had seemingly struck from nowhere. Here are generals scrambling to mobilise ill-prepared divisions, pilots defying orders not to grapple with the mighty... (

Lees verder

)

Luftwaffe, bewildered soldiers showing individual acts of blind courage, and civilians dumbstruck by air raid sirens and radio broadcasts telling of German treachery.

Pagina's

186

Conditie

Nieuw

Prijs

€ 15,00

Toevoegen aan winkelwagen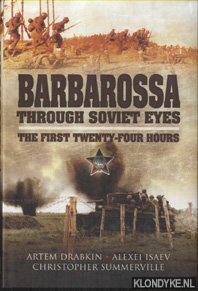 Onze gebruikte boeken verkeren in goede tweedehands staat, tenzij hierboven anders beschreven. Kleine onvolkomenheden zijn niet altijd vermeld.