Aanbod
Battleground Sussex
Door John Grehan e.a.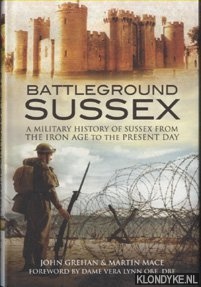 | | |
| --- | --- |
| Rubriek | Algemeen Militaria |
| Boeknummer | #218796 |
| Titel | Battleground Sussex. A Military History of Sussex from the Iron Age to the Present Day |
| Auteur | Grehan, John & Martin Mace |
| Boektype | Gebonden hardcover met stofomslag |
| Uitgeverij | Pen & Sword Military, London |
| Jaar van uitgave | 2012 |
| ISBN10 | 1848846614 |
| ISBN13 | 9781848846616 |
| Taal | Engels |
| Samenvatting | From its south-eastern tip Sussex is little more than sixty miles from continental Europe and the county's coastline, some seventy-six miles long, occupies a large part of Britain's southern frontier. Before the days of Macadam and the Turnpike, water travel could prove more certain than land transportation and the seas that define the borders of our nation aided, rather than deterred, the invader. Though the last successful invasion of Britain took place almost 1,000 years ago, the gently shelving beaches of Sussex have tempted the prospective invader with the promise of both an easy disembarkation and a short and direct route to London - the last time being just seven decades ago. As the authors demonstrate, the repeated threat of invasion from the Continent has shaped the very landscape of the county. The rounded tops of the Iron Age hill forts, the sheer walls of the medieval castles, the squat stumps of Martello towers, the moulded Vaubanesque contours of the Palmerstone redoubts and the crouched concrete blocks and bricks of the Second World War pillboxes constitute the visible evidence of Sussex's position on Britain's front line. |
| Pagina's | 222 |
| Conditie | Nieuw |
| Prijs | € 12,50 |

Toevoegen aan winkelwagen
Zie ook
Onze gebruikte boeken verkeren in goede tweedehands staat, tenzij hierboven anders beschreven. Kleine onvolkomenheden zijn niet altijd vermeld.