Onze boeken
Mrs Duberly's War. Journal and Letters from the Crimea, 1854-6
Door Frances Isabella Duberly e.a.
Categorie

Geschiedenis Europa

Boeknummer

#218302

Titel

Mrs Duberly's War. Journal and Letters from the Crimea, 1854-6

Auteur

Duberly, Frances Isabella & Christine Kelly (edited with introduction & notes by)

Boektype

Paperback

Uitgeverij

Oxford University Press

Jaar van uitgave

2007

ISBN10

0199532060

ISBN13

9780199532063

Taal

Engels

Samenvatting

Mrs Duberly's journal is one of the most vivid eye-witness accounts we have of the Crimean War. Fanny Duberly, then aged 25, accompanied her husband to the Crimea in 1854, and remained there until the end of the fighting, the only officer's wife to remain throughout the entire campaign. She survived the severe winter of 1854-55, witnessed the battle of Balaklava and the charge of the Light Brigade, and rode through the ruins of Sebastopol. Spirited and courageous, she was known by sight to British and French soldiers across the battlefields, regarded often with enthusiasm and sometimes with disapproval. Witty and beautiful, she enjoyed flirtatious friendships with many of the most important men of the campaign. Her Journal kept during the Russian War was published in 1855 and caused a sens

... (

Lees verder

)

ation. Although widely praised as the 'new heroine for the Crimea', Fanny was also censured, ridiculed, and even parodied in Punch. She had stepped into a man's world, and written about it in a way that seemed to some at the front an invasion of privacy and to others at home an abandonment of gentility. A best-seller at the time, the Journal was not reprinted after its second edition of 1856, and this is the first edition since that time.

Pagina's

355

Conditie

Goed

Prijs

€ 10,00

Toevoegen aan winkelwagen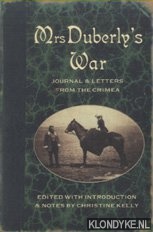 Onze gebruikte boeken verkeren in goede tweedehands staat, tenzij hierboven anders beschreven. Kleine onvolkomenheden zijn niet altijd vermeld.