Aanbod
US Aircraft in the Soviet Union and Russia
Door Yefim Gordon e.a.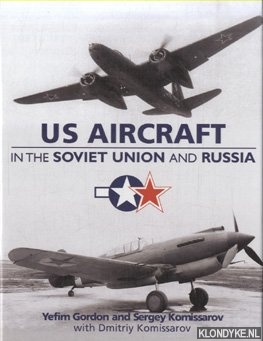 | | |
| --- | --- |
| Rubriek | Vliegtuigen & Luchtvaart |
| Boeknummer | #197603 |
| Titel | US Aircraft in the Soviet Union and Russia |
| Auteur | Gordon, Yefim & Sergey Komissarov |
| Boektype | Gebonden hardcover met stofomslag |
| Uitgeverij | Crecy Publishing |
| Jaar van uitgave | 2008 |
| ISBN10 | 1857803086 |
| ISBN13 | 9781857803082 |
| Taal | Engels |
| Samenvatting | This splendid new book reveals how imported American aircraft, engines and aviation equipment were used in pre-revolutionary Russia, the Soviet Union and today's Russia, influencing the development of aircraft industry, civil and military aviation over all these years. US aviation first 'set foot' on Russian soil in 1908 and since then many different aircraft have found their way there; between 1910 and 1916 the Russian Navy took delivery of Curtiss floatplanes and flying boats. Between the two World Wars, Boeing and Martin attempted to sell their aircraft to the Soviet Union, and many different variants were imported; several of the most successful were not only imported but also built under licence. During World War 2, Soviet airmen flew and fought in US aircraft supplied under the Lend-Lease agreement and these planes proved to be very popular with Soviet aircrew. After the Cold War cooperation was established between US and Russian aircraft manufacturers and research establishments (such as the effort by Sukhoi and Gulfstream to create supersonic business jets); deliveries of US aero engines for certain Russian aircraft have also taken place. This unique book is illustrated with over 600 vibrant photographs, many of which have never been published, and several enviable line drawings and colour profiles which will be of real interest to aviation enthusiasts everywhere. |
| Pagina's | 352 |
| Conditie | Nieuw |
| Prijs | € 25,00 |

Toevoegen aan winkelwagen
Zie ook
Onze gebruikte boeken verkeren in goede tweedehands staat, tenzij hierboven anders beschreven. Kleine onvolkomenheden zijn niet altijd vermeld.